May 23 2013
Burlingame High School's Assistant Principal is coming to Piedmont – 
 Brent Daniels Piedmont High School's new Principal
On May 22, 2013, the Piedmont Unified School District Board of Education announced the appointment of Brent Daniels as the new principal of Piedmont High School. The following is the District's press release:
The selection process included input from a large interview panel of representative stakeholders ‐ Piedmont High School staff, students, parents, and administrators; and additional interviews and reference checks with the Cabinet; the Superintendent, Ms. Constance Hubbard; and the PUSD Board of Education.

Mr.Daniels brings twenty‐one years of Bay Area educator experience to Piedmont High School. He currently serves as Assistant Principal at Burlingame High School, San Mateo Union High School District (SMUHSD), and is a doctoral candidate in UC Berkeley's Leadership for Educational Equity Program (LEEP).

Over the past ten years, his SMUHSD administrator roles have included Assistant Principal of Instructional Services; Administrator on Special Assignment; Administrator In‐Charge; and Assistant Principal of Student Services.

Prior to administration, Mr.Daniels taught for eleven years, primarily in Bay Area High Schools, in the subject areas of Biology, Physical Education and Physical Science. He also coached Varsity Boy's Basketball and led his alma mater, El Cerrito High School, to a North Coast Section (NCS) Division III Championship.

Mr.Daniels earned a Master's Degree in Education from UC Berkeley's Principal Leadership Institute (PLI). He holds a Bachelor's Degree in Physical Education from UC Berkeley. Mr.Daniels is the son of retired East Bay school principals, and has two sons in college and a daughter in high school.

While his position officially begins on July 1st, this early appointment will allow for a smooth transitional period with students, staff, and parents. PUSD is delighted to welcome Mr. Brent Daniels to our community of learners.

~~~~~~~~~~~~~~~~~~~~~~~

Piedmont High School

The Piedmont High School community is located in Piedmont, a city of about 10,000 residents nestled in the hills above the San Francisco Bay Area. With approximately 750 students and 53 teachers, PHS has a high academic performance record. The outstanding staff provides a remarkable education and learning environment for all students. The 2012 API was 917, meeting all of its growth targets and APR criteria. The residents of Piedmont demonstrate a strong sense of community and are committed to maintaining and enhancing educational programs, services and school facilities. Parent participation in school activities is extensive; parents and community members have developed a variety of support organizations that work collaboratively with staff to support the needs of the school system.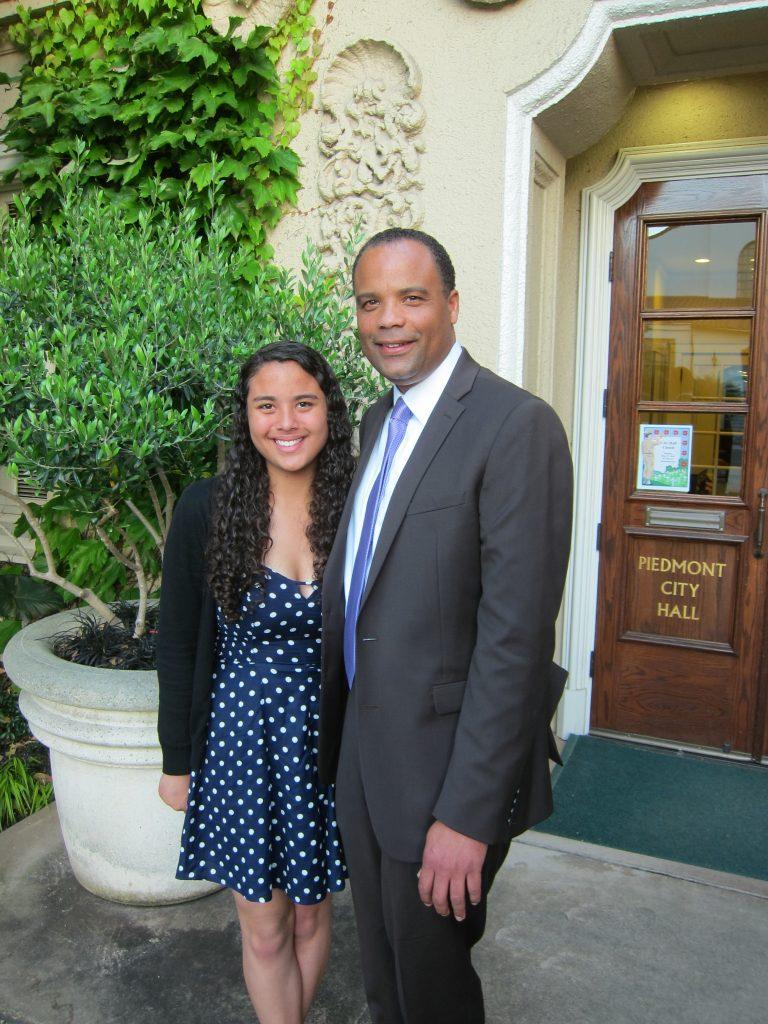 Brent Daniels and his daughter, Kimiko.
Click for more information on Piedmont High School.
Photos:  Patch and Highlander
Leave a Comment